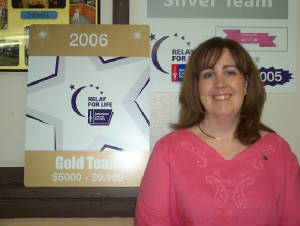 To Whom It May Concern,
Millions of Americans will be diagnosed with cancer this year, West Virginia has the highest number of lung cancer cases in the United States. With these astonishing figures, the Newell Lions Club has decided to participate in the Relay for Life in Columbiana County. This Relay is held annually to raise money and awareness for American Cancer Society.
Relay for Life is a fun and unique, 24-hour walk/run event involving teams of participants from area organizations and businesses. Each team will keep at least one representative on the track, for a scheduled period of time, throughout the 24 hour period. Relay for Life is coordinated by the American Cancer Society community volunteers and supported businesses and organizations. The Columbiana County relay will take place this year at the Frank Mangano Memorial Track at East Liverpool High School on Friday June 6 and Saturday June 7, 2003.
Our goal is to raise money for continued research, educational programs, advocasy, and patient support groups. Please join the fight against cancer by sponsoring our team. Please make a donation made payable to the American Cancer Society and return it to us. All monies collected from these events are kept local. Any donations are welcome.
Together we can make a difference. There is no finish line until we find a cure!
Sincerely,
Amy Johnston
District 29-L Chairperson